VOOM is a pod startkit that has a simple one-piece design. The electric cigarette comes with a built-in 320mAh battery that lasts up to 3 days (average use). VOOM comes equipped with a refillable pod that you can choose the flavor for, but there are also pre-filled pods to buy with different flavors.
What is included in the package?
1pc - VOOM Battery
1pc - Refillable pod
1pc - USB-charger
1pc - User manual
1pc - Warranty card
1pc - Gift box
VOOM features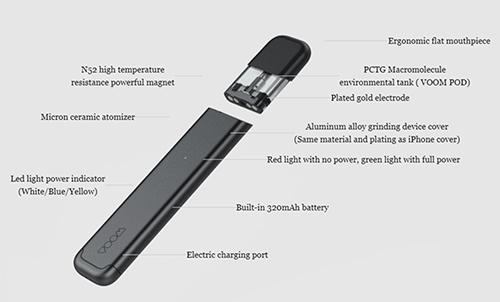 VOOM is a very simple starter kit that does not have advanced settings, but you only need to install the refillable pod and the electric cigarette is ready to be vaped. VOOM has a built-in 320mAh battery that enables long road sessions. The VOOM pod comes equipped with a 1.2 ohm ceramic coil that produces a rich flavor production.
VOOM also has an ergonomic mouth-piece that is conveniently placed against the lips when vaping. VOOM also has an LED light which indicates how much battery remains.
Specifications:
Size: 110 x 75 x 21mm
Liquid capacity: 1.2ml
Battery capacity: Built-in 320mAh batteri
Resistance: 1.2ohm (Ceramic)
Safety functions: Low voltage protection, Short-circuit protection, Overtime protection, Blowback protection, Overcharge protection
VOOM is created with a simple design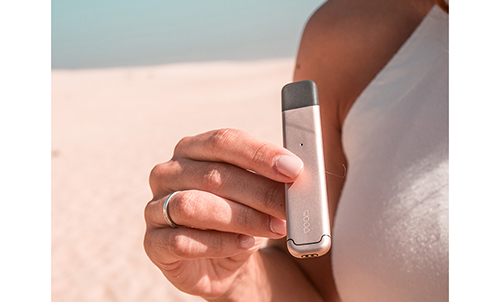 VOOM has a long narrow & simple design that makes the e-cigarette not to stand out, but is a more discreet electric cig that is easy to carry and store and even more focused on flavor production than steam production.
Choose from a number of pre-filled pods with different flavors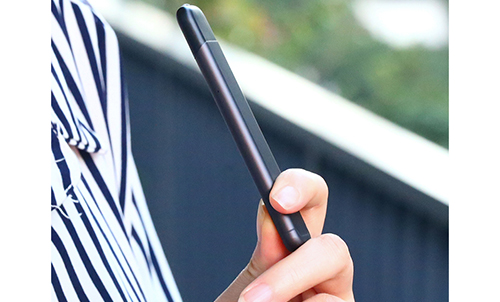 You can choose to buy pre-filled pods with different flavor profiles, you can currently choose from five different pre-filled pods with e-liquid, you can also buy pods without taste and pour in your optional e-liquid.