THE VG/PG RATIO - CIGGE SORTS IT OUT
As you probably know, vaping is a newer, less harmful form of smoking. You probably have knowledge of this, otherwise you probably wouldn't have found your way here. The advantages of vaping instead of smoking cigarettes are many. Changing your traditional cigarettes to vaping can be tricky and tough, but it is definitely possible. We have thousands of proofs of that at cigge.
It can also be tricky to understand device specs, voltage settings, flavor, nicotine strength, cloud production, propylene glycol and vegetable glycerin levels (PG/VG ratios) We suspect there is still a lot of confusion about how this whole process actually works - which we at cigge understand - but don't worry if you're just starting out.
One question that puts things on edge is VG/PG (vegetable glycerin & propylene glycol) - We will try to explain and give you knowledge on the subject so that you can choose the right VG/PG ratio for your personal needs and preferences.
E-liquid is basically propylene glycol (PG) and vegetable glycerin (VG) - you usually call these two the carriers in your E-juice. This is the basis of your E-juice. In order to then get an E-liquid that is taste-wise possible to inhale, you need to add aromas and possibly nicotine. In short - propylene glycol and vegetable glycerin are the basis of your E-juice.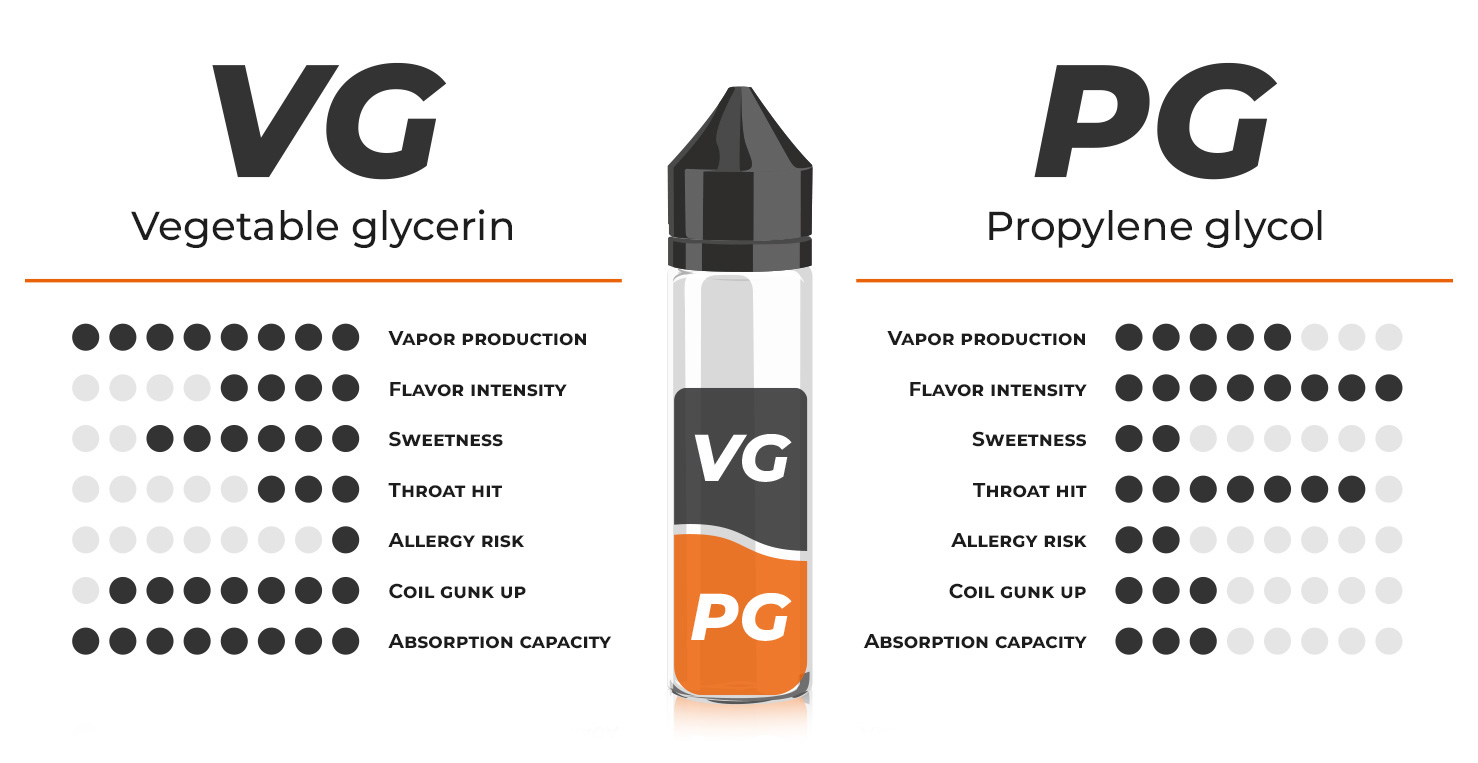 WHAT IS PG?
PG stands for propylene glycol and is basically a food additive. It is thus an approved food additive that is formally recognized as safe. PG has a similar structure to alcohol and has a clear, odorless liquid that is less viscous than VG. You find PG in various foods, medicines and objects. E-juices with a high pg are best suited to those who smoked regular cigarettes before and like "throat-hit". In addition, the PG liquid carries nicotine and flavor very effectively.
High PG liquids also produce significantly less vapor because PG needs significantly less power to heat up - which can make it more suitable if you feel the need not to show that you are vaping.
Tips on devices that are good for 50/50 vaping; Doric 20, Xros Mini
WHAT IS VG?
VG means vegetable glycerin and is a significantly thicker liquid than PG. The VG liquid is clear, odorless and sticky and made from vegetable fat. Vegetable glycerin has a wide range of uses and is used, among other things, in the creation of toothpaste, medicines and more. VG has a fairly high heating point, which means that E-liquids with high VG are best suited for high-power electronic cigarettes.
VG primarily has two functions in your e-juice. The first is that the liquid contains a small amount of sweetness that is added to your e-juice that affects the end result and the experience of every puff you take. The second, and the primary one, is to facilitate cloud production - as mentioned earlier, VG is the big creator of big clouds.
An e-juice that contains high VG gives a soft and even throat hit that does not feel as harsh on the throat as a liquid with high PG. Unlike PG, VG does not carry flavors and nicotine as effectively. High VG liquids are more suitable for sub-ohm vaping or in devices where you can set the power on the machine yourself. VG liquids require high power.
Together and in agreement, these chemicals work very well together. When heated, PG produces throat hits that provide a similar smoking experience to traditional cigarettes, while VG produces clouds and more vapor production. Do you want big clouds and soft neck hits? Then you should use an E-juice with a high VG. Want more sluggish E-juices similar to tobacco cigarettes? Then you should use an E-juice with a high PG
Tips on devices that are good for 70/30 vaping (High Vg) Target 80, Gtx Go 40
CAN I MIX VG/PG LIQUIDS?
Yes. It is perfectly possible to mix, for example, a nicshot that is 50VG/50PG in an e-juice with 70VG/30PG. The only thing that actually happens is that you dilute your juice, you may lose a little flavor if you choose to use a liquid with a high VG. Generally, there is so little difference that you won't notice anything. So what happens is that you change the VG/PG ratio when you mix
Example:
You have:
50 ml short fill 70/30 (VG/PG)
10ml nicshot 50/50 (VG/PG)
You mix:
If you add 10ml 50/50 (VG/PG) nicshot to your 50ml shortfill, the VG content drops to 67VG in the shortfill.
Your result: